TBC News
October 28, 2021
Board Member Spotlight: Kelley Georgiades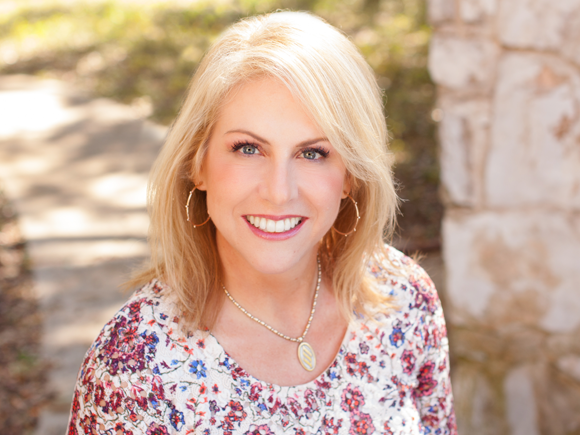 Kelley georgiades
Represents: Texas & Southwestern Cattle Raisers
Hometown: Navasota
Can you tell me about your operation?
My father Gerald and I, along with our General Manager Kent Smith, founded and built Santa Rosa Ranch into the largest registered breeder of Brangus and Ultrablack cattle in the United States. In September 2021, we sold the operation to a new group who will take the operation to an entirely new level and influence the breed and global beef production for decades to come. We are very proud to have built the foundation for these new owners and are so excited to see their plans come to fruition!  We still own and operate our ranch in Navasota, which will now be known as Santa Clara Ranch and was named for both my and my mother's Patron Saint, Saint Clare of Assisi, where we will focus on commercial cow/calf production. In 2019, my husband George and I started GKG Land & Cattle, a commercial cow/calf and equine operation in Millican, Texas. Our family has been in the cattle business for over 100 years so we are excited for our next chapter!
What has been your involvement with Texas Beef Council?
I am entering my 6th year on the Texas Beef Council (TBC) board as an appointee of the Texas & Southwestern Cattleraisers Association. This year, I will be the Chair of the Marketing Committee and previously had the honor of visiting our largest export partners in China, Japan and South Korea on behalf of TBC and U.S. Meat Export Federation (USMEF), a contractor to the Beef Checkoff.
What initiatives have you been involved with that make you most proud?
My initial involvement started in 2016 when I worked with TBC to coordinate  "Optimizing Protein Through the Healthspan" at the University of Texas Medical Branch (UTMB Health) in Galveston. UTMB is one of the leading protein research institutes in the world and the day-long symposium brought researchers together, highlighting protein needs of various demographic groups. Our target audience was healthcare practitioners, particularly those in Family Medicine, Internal Medicine, Pediatrics and Gerontology. These frontline healthcare practitioners were eager for accurate information to provide to their patients. 
Health and proper nutrition education has been a continued focus while international beef trade has become a prominent focus because of my family's interest in international maritime trade. The activities of the USMEF are of particular interest, especially since I personally had the opportunity to see the efforts they make on behalf of U.S. beef producers, enhancing our position as the global leader in beef production.
What other organizations have you been involved with, both now and in the past?
I am a graduate of Texas A&M University and the TCU Ranch Management Program.  I serve as Commissioner with the Texas Agricultural Finance Authority; Board of Directors for the Texas &Southwestern Cattleraisers Association; a member of the International Trade and Marketing Committee for the National Cattlemen's Beef Association; Captain of the Houston Livestock Show and Rodeo International Committee; and various committees of the International Brangus Breeders Association. 
I serve as Chairman of the Area of Excellence in Pregnancy and Development Initiative for the Texas A&M University College of Agriculture and Life Sciences, Advisory Council of the Department of Animal Science at the Texas A&M University College of Agriculture and Life Sciences, a graduate in the 13th class of the Texas Agriculture Lifetime Leadership Program (TALL), and am involved in the Texas A&M Agrilife Extension Program.
What would you say to someone looking for a way to get involved in advocating for beef?
If you're passionate, just do it. Our industry needs as many well-informed advocates as we can get, willing to have conversations with the majority of people in our society who know NOTHING about what we do. Rather than dismiss or avoid conversations with people outside of our agriculture circle, bring them in. Engage people in discussions about what we do and the dedication we all have to producing a healthy, consistent, nutrient-dense form of protein they can feed their family and friends. Get involved in your local extension programs, cattle associations, breed association, etc. and participate in the discussions with other members to develop points of discussion which are informative.
How would you describe the Beef Checkoff program to someone not in the beef industry?
The Beef Checkoff is a wise investment that producers make in order for our end product to be marketed to global consumers because – let's admit – we don't have time to focus our attention on those activities. Cattle producers are too busy with our day-to-day obligations and responsibilities. So, we rely on a dedicated team of professionals who carry our banner and offer the messaging that is front-of-mind and consistent to our end users – our consumers!  The messaging is targeted to those who are outside our industry because we need to be strategic and wise with the dollars that are provided in encouraging as much beef consumption as possible. Producers already know about the excellence of our beef – we need to spend Checkoff dollars on reaching those who may not have a full appreciation!
How do you personally share the work the Checkoff is doing with other producers?
I'm very active on social media so I consistently post information from checkoff-related programs and studies. I also participate in as many speaking engagements as I am asked to do. I think my fellow producers sometimes get frustrated because they don't always "see" what the Checkoff is doing. So, it's always important to remember that we already know the excellence that we produce – the money we have available through the Checkoff should be used to target those that don't have that same "wisdom!"  But it is important to know that those dollars are used to increase beef demand through promotion, research and education…and reach those outside of our agriculture circles.