Education
May 03, 2022
Creating Beef Advocates Through The Art of Barbecue
One of the best ways to learn is by doing, especially for younger generations who rely on authentic experiences in order to build trust with companies and products. For years the Texas Beef Council (TBC) has invested in the next generation of consumers and culinary professionals by providing hands-on beef education from pasture to plate.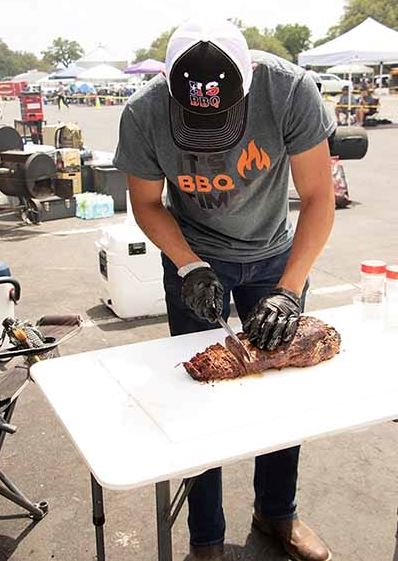 TBC actively works with young culinarians through Family, Career and Community Leaders of America (FCCLA) and Texas ProStart to be a trusted source of information and ensure beef plays a leading role in the dishes they create. Since 2016 TBC has partnered with another organization, High School BBQ, Inc. (HSBBQ), which brings culinary and ag students together over a shared interest in cooking, community and friendly competition. 
HSBBQ started when a high school culinary instructor brought eight teams together for the first High School BBQ cookoff in Burnet, Texas. Since then it has grown from a single annual event to 10 regional competitions held across the state where teams prepare their best barbecue dishes, including brisket, to qualify for the High School BBQ State Championship where they compete for prizes and scholarships. TBC supports the program by providing sponsorship, leadership and education opportunities for the students. 
Russell Woodward, TBC senior manager for channel marketing, serves as vice president of the HSBBQ board and oversees TBC's sponsorship helping with planning, coordination, event execution and sponsor recruitment. 
"HSBBQ is one small part of building a knowledge base for future beef consumers and advocates, and it's an investment worth making," said Woodward. "The life skills learned while being a member of a cooking team provide an important foundation for community, fellowship and most importantly understanding the importance of our food system." 
Students and instructors receive TBC resources like cooking demonstrations, brochures and Beef Loving Texans gear to build their confidence and pride in preparing beef. And to help students understand how beef is raised with quality and safety standards, TBC's The Raw Truth About Beef immersion experience is provided for instructors to use in their classrooms. 
"TBC is honored to support HSBBQ events and provide students the opportunity to apply what they have learned in a fun, competitive environment," said Woodward. "It also allows us to partner and collaborate with industry leaders from across Texas." 
This year over 75 teams qualified for the State Championship at the Dell Diamond in Round Rock where they showcased their best dishes and TBC had a presence as a sponsor, along with seating judges in each barbecue category. The three top teams below received a combined amount of $65,000 in scholarships to further their education beyond high school.
Grand Champions: Cowboy-Up BBQ from McMullen County High School in Tilden, TX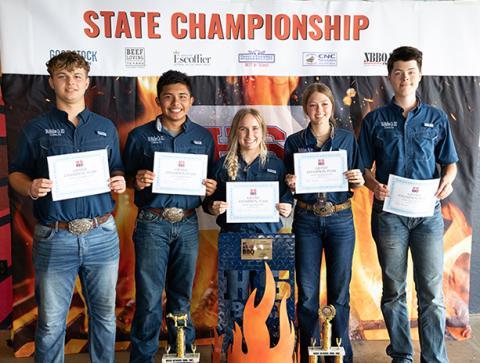 Reserve Champions: Smoking Vaqueras from Cotulla High School in Cotulla, TX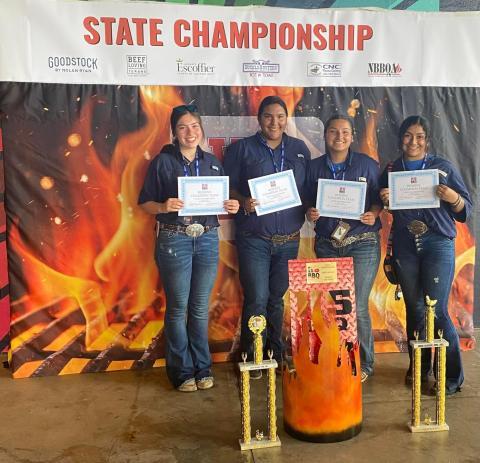 Third Place: Lanier FFA BBQ team from Navarro High School in Austin, TX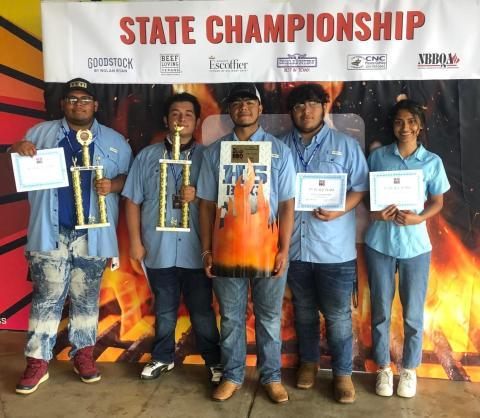 For TBC, supporting HSBBQ and the young minds of Texas means bridging the gap between the culinary and agriculture communities. Visit TexasHSBBQ.org to learn more.