TBC News
September 21, 2021
Down the Road With Molly
Sometime between calving, weaning, branding and hauling hay, ranchers and cattlemen get together for their summer meetings. This summer of 2021 has been particularly special for me as I was able to get out and visit with producers from all across Texas. Still new in my job, I've taken every opportunity to meet new people and greet old friends. With virtually no one able to travel in 2020, it seems like forever since we've gathered. Ranchers are used to solitude, but we do appreciate the time to see friends from far-off places, and summer meetings are meaningful that way. Nothing makes up for face-to-face interactions in my book, and the handshakes and hugs are a bonus.
I made a commitment to myself and Texas Beef Council (TBC) that I would get to as many producer meetings as possible in the early days and months of my job. I know that trust is built through repeated positive actions: doing what you say you're going to do when you say you're going to do it. I also know that it's easier to trust someone you know. It is important for cattle producers to have the opportunity to get to know me as TBC's new leader and to hopefully trust me to lead our promotion, research and educational efforts for beef on their behalf.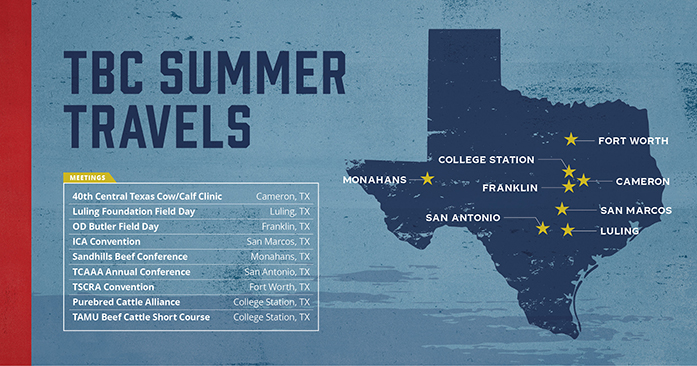 During the winter months, Americans were still conducting most meetings on virtual platforms like Zoom. Though not my favorite means of communication, these video meetings allowed me to share the powerful work funded by skillful Beef Checkoff investments with Texas Agricultural Lifetime Leadership classes, as well as with other leadership cohorts. Especially in the very early days of my return to TBC, I felt compelled to proudly showcase our accomplishments. Ironically, the longer I'm a part of this amazing group of professionals, it becomes a bit tougher to brag because I truly feel like part of the team now.
Last winter, I was also honored to judge youth public speaking and skillathon contests, and each opportunity put me in contact with the men and women of our outstanding community who work to raise safe, wholesome beef while stewarding their lands for generations to come. They are giving back, in part, by training the next generation of industry-involved youth to carry on our rich traditions. Of course, our wonderful county agricultural extension agents play a key role in communicating and educating others about beef and Beef Checkoff activities, and I've been fortunate to attend meetings to meet and interact with both state and county leadership at Texas A&M Agrilife Extension.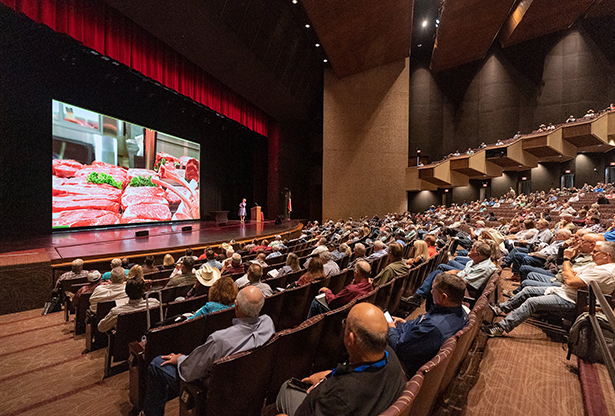 As in-person meetings began to occur with spring board meetings and summer conventions, I made the rounds to connect with old friends and meet new ones. Our wonderful organizations with representatives on our board like the Independent Cattlemen's Association, Texas Farm Bureau, Purebred Cattle Alliance, and Texas & Southwestern Cattle Raisers all had successful meetings this summer. And, they graciously gave me time to present the great results of Beef Checkoff-funded marketing, research and educational projects. The Texas A&M Beef Cattle Short Course was a great success in College Station where over 1,600 registrants had an opportunity to meet our Chief Recipe Officer, Eddie Jackson. Finally, rounding out this whirlwind introductory tour were meetings with Veterinary Food Animal Practitioners, TSCRA Ranch Gatherings, a North Regional Program area commodity meeting (Agrilife) in Canyon and Texas Cattle Feeders Convention in Oklahoma City. Along the way, I was able to speak with Texas CattleWomen, the NetBio board and livestock markets.
I'm committed to using my talents and efforts to benefit our stakeholders and lead the TBC team to do the same. As our team works to grow demand for beef, I promise to communicate with honesty, transparency and enthusiasm to the men and women who contribute Beef Checkoff dollars. Beef is my protein of choice, and I love it and the ranching and farming communities across our great state. I am humbled to be a small part of the work we all do to bring safe, wholesome and great-tasting beef to our industry partners and consumers everywhere.
See you down the road.
- Molly