TBC News
December 05, 2022
Driving Beef Demand In 2022
TEXAS BEEF COUNCIL RELEASES PROGRAM SUCCESSES IN NEW ANNUAL REPORT
AUSTIN, Texas (December 5, 2022) – During board meetings in late November, the Texas Beef Council (TBC) approved and released evaluations of its fiscal year 2022 programs. This information is now available in TBC's annual report titled "Building Beef-Loving Communities." The report gives Texas beef producers the opportunity to see how their Beef Checkoff dollars were used to drive beef demand over the last year.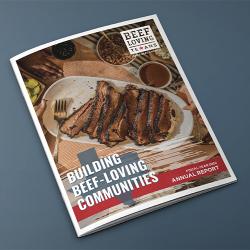 From taking viewers on a journey "beyond-the-pit" with a new season of the popular streaming series BBQuest, to reaching over 750 doctors offices with the latest research about beef's role in a healthy lifestyle, TBC aims to bring Texans together over a shared love of beef. 
"The past year has been a journey of sharing beef's great story," said Molly McAdams, TBC's executive vice president. "I'm proud of our staff for executing creative programs with a high degree of excellence. We remain mission-driven and passionate about our industry, and it shows in the results we are able to share back with producers."
A few key highlights from the report include:
Launching BBQuest: "Beyond The Pit", season 3 of TBC's popular video series that has surpassed 2.9 million total views. The new season also brought home one gold and two platinum LIT Awards, a competition that recognizes excellence in commercial videos and television productions across all industries.
Delivering beef nutrition messages to 750 medical offices..
Driving 1.4 million recipe views to the recently refreshed BeefLovingTexans.com. 
Partnering with food influencers for a TikTok campaign, receiving 1.5 million views. 
Targeting online grocery shoppers with holiday and summer grilling campaigns, resulting in 15% and 20% respective sales lifts.
Sponsoring international retail campaigns that generated nearly 4.6 million pounds in U.S. beef sales.
"We've produced a TV show [BBQuest] that highlights beef as an integral part of Texas barbecue. Not only that—we made Texas ranchers the hero of that story as stewards of their animals and land," said McAdams. "This is just one example of how we help people feel good about choosing beef for their families. I hope producers visit our annual report to learn more about how their Beef Checkoff dollars are making a positive impact here in Texas and beyond."
Visit TexasBeefCheckoff.com/Annual-Reports to access the entire Annual Report that includes more Beef Checkoff-funded results across all programs. 
# # #
The Texas Beef Council (TBC) conducts the $1 per head national checkoff program for Texas beef producers and is also the contractor for the Beef Promotion Research Council of Texas (BPRCT), which administers the $1 per head Texas state checkoff program. TBC's mission is to increase beef demand in the state through programs of beef promotion, research and education. TBC also helps fund national and international beef checkoff programs to increase marketing opportunities around the globe.  The BPRCT's mission is to improve Texas producer profitability by strengthening and expanding beef demand. The TBC and the BPRCT are directed by a 20-member board of cattlemen and women representing the state's beef producers.