Research
January 11, 2023
The Impact of Beef Quality Research - With Molly
By: Molly McAdams, TBC Executive Vice President
Like many of you, I learned to drive on a tractor. When I really started driving, I had a '74 Chevy Dually with a bumper pull, gooseneck hitch and 454 engine. This truck is probably why my brother became such a good mechanic – he spent a lot of time repairing it. American cars had numerous quality issues and notorious failure rates in the '70s and '80s, but my family always stuck with them.  
Automakers reacted by focusing on consumers and improving product quality, which reminds me of how the beef industry faced its own quality issues and decreased consumer demand in the past. We also took bold steps to answer these challenges, including funding important quality research through the Beef Checkoff and grassroots producer leadership. With time and focus, beef producers have realized tremendous improvements in beef product quality, measured by consumer satisfaction. These improvements have resulted in record demand for our product.  
I recently spoke with Dr. Mandy Carr Johnson, senior executive director of scientific affairs at the National Cattlemen's Beef Association (NCBA), about the roadmap for beef quality research and the milestones and improvements along the way. Here's what she had to say. 
Dr. Mandy Carr Johnson, Sr. Executive Director of Scientific Affairs 
The entire purpose of the checkoff is to focus on consumer demand. Beef quality means a lot of things to a lot of people, but to a consumer, quality has everything to do with consistency, tenderness, flavor and overall taste. It was consumer feedback about consistency and tenderness that prompted us to tackle some very difficult challenges in the early '90s.  
During that time, data the industry collected through the National Beef Tenderness Survey demonstrated that more than 25% of beef was not "satisfactory" to consumers. Those results prompted the need for a plan to address the problems in practical ways. It's important to note prior to the Beef Checkoff, our ability to invest in these long-term research programs was spotty.  
After establishing a benchmark and roadmap for researchable topics, our producer leaders and technical advisors developed plans to better understand our product and resolve its quality issues. The resulting research fell under three major categories: overall carcass improvement, pre-harvest factors affecting beef quality and beef flavor. 
Overall Carcass Improvements 
Tenderness. Beef Checkoff research immediately focused on tenderness to address dissatisfaction from the first National Beef Quality Audit. By 1999, tenderness had increased by 20%. To accomplish this dramatic improvement, all facets of our industry worked together to change genetics, management, feeding practices and post-harvest aging and chilling. Specifically, from the initial benchmark to 1999, we documented: 
Fewer no-roll steaks 
More steaks grading high Choice and Prime 
More gradual chilling procedures 
Increased aging periods 
Top sirloin with fewer injection site blemishes and less associated toughness 
By 2005, there was an 18% increase in tenderness compared with 1999 levels and more branded programs emerged with their own focus on quality. Tenderness levels for both retail and foodservice cuts have held steady since then.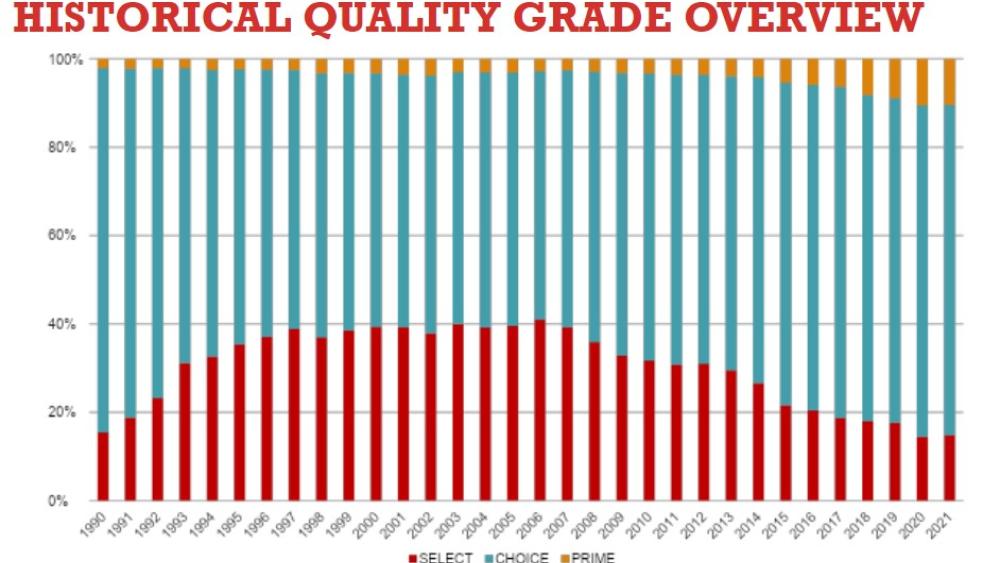 Profiling Muscles of the Chuck and Round. Beef market data from 1993 - 1998 revealed a disturbing trend: the wholesale value of beef chucks and rounds decreased by 26 percent. The Muscle Profiling Project profiled the characteristics of 39 beef round and chuck muscles to understand their attributes and derive greater value. This research project and others helped the industry better understand the characteristics of all carcass components and led to the introduction of more than 17 value-added cuts to the marketplace. 
Pre-Harvest Genetic & Management Practices 
Beef Checkoff-funded research helped map the bovine genome in the very early days of genetic research. This led to the Carcass Merit Project which considered how genetics can impact palatability. Breed associations immediately used this data to help develop Expected Progeny Differences for tenderness and marbling, which significantly impacted the overall quality of beef cattle produced in the U.S. to meet domestic and international demand. 
Closest to home for the average commercial cow-calf operator, learnings from National Beef Quality Audits have been used to help producers maximize the value of their cattle and simultaneously address the needs of the consumer market.  
Protecting Beef's Flavor Profile 
Ultimately, our work is never finished as we strive to deliver the best beef possible for consumers worldwide. As producer leaders and technical advisors come together to focus on the impact of long-term research, we will see benefits for both consumers and overall beef demand.  

From the beginning, taste was clearly the number one driver of demand when consumers chose beef over other proteins. In fact, beef's great taste contributes more than 74% to overall consumer satisfaction. As a result, we knew we needed to protect beef's flavor over time. The massive improvements in beef tenderness and consistency have helped us better understand beef flavor and the essential role it plays in eating satisfaction.  
—  
When prioritizing researchable topics appropriate for the Beef Checkoff, we must balance technical research with consumer research, so we know what we're doing is impacting demand and benefitting our industry. Our mission is to include consumers in this process because we know they're voting with their dollars every day on what they serve their family. 
Whether you're driving a truck or eating a steak, you know if you're having a good experience. Consumers will tell us if we're providing a wholesome, nutritious, satisfying and flavorful product – we just need to ask.