TBC News
February 23, 2022
Learning From The Past, Looking To The Future - With Molly
By: Molly McAdams, TBC Executive Vice President
In farming and ranching, we tend to measure and evaluate from season to season and year to year. We look at expected progeny differences (EPDs), our hay's protein content, soil quality, input costs and, most certainly, calf weights. As our son was growing up, I can recall the best math lessons occurred by giving him examples of dosing rates for our cattle and horses, or supplement calculations for his commercial steers. Measurements are important because we use the information to understand our progress over time.
Organizations, like individuals, need to look back at their accomplishments and milestones if they're going to evolve and advance. One way we do that here at Texas Beef Council (TBC) is by completing program evaluations in the fall that measure and outline success of our projects across the organization. Then, after the new year begins, we add board-approved financials to give producers the full picture of their Beef Checkoff investments in the form of our annual report. It's an exercise that spurs us to revisit our past year's programs and consider which programs are working and what we should shift in order to make a greater impact with producer dollars. 
The result of those efforts, the 2021 Annual Report, is now available, and details key state and national Beef Checkoff program results, revenues and expenditures. It's a snapshot of how we used your producer investment over the past year to educate consumers, chefs, nutrition influencers and others to keep beef in its strongest state.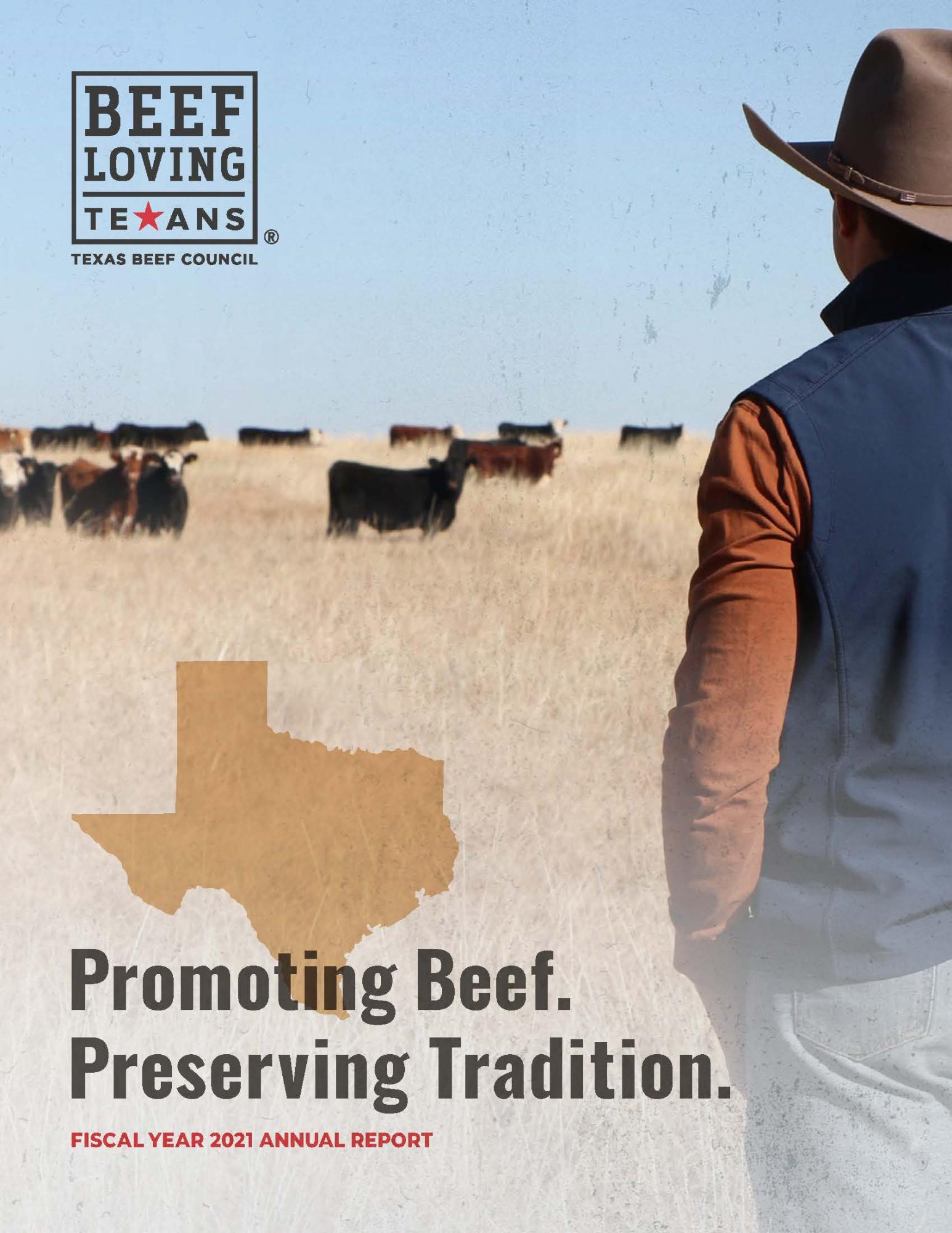 The report shares the many successes that TBC's beef education, promotion and research efforts experienced over the past year, funded by the $1-per-head Texas state Beef Checkoff program and the $0.50-per-head Texas retains from the national Beef Checkoff program. While you can get more details by reading the report itself, here are just a few highlights:
BBQuest: Television viewers watched 620,000+ hours of the BBQuest series since it launched on Hulu.
Medical Office Outreach: TBC representatives reached 3,360-plus health professionals and staff directly with educational materials about beef's role in a healthy diet.
Social Media: Beef Loving Texans video ads were viewed 74 million times on Facebook, Twitter, Pinterest, Instagram and YouTube.
Beef Team: This group of beef-loving fitness enthusiasts who are committed to living active, healthy lifestyles participated in 7,578 activations.
Beef Loving Chefs: Forty-plus chefs attended the first Beef Loving Chefs Summit to learn about the beef lifecycle from industry experts, as well as new ways of incorporating beef dishes on their menus to get more protein on consumers' plates.
Retail Promotions: "Taco Like a Texan" and "Tailgate Like a Texan" promotions received more than 4,000 contest entries, 1,500 in-store displays, iHeart media advertising and a location-based ad delivery that resulted in 46,000 store visits.
We also included the Cattlemen's Beef Board's 2021 program expenditures in the report so you can learn about national Beef Checkoff program achievements, including the "Beef in the Early Years" campaign directed at new and expectant parents and important food safety research studies on Salmonella control.  
We're eager to share what we were able to achieve in 2021, because without your involvement and support, we wouldn't be able to fund critical research or develop promotions that keep beef top of mind for consumers everywhere. 
Reviewing the report is also a great opportunity to give us feedback. This is your Beef Checkoff, and we want to know how you feel about our programs and what you'd like to see us do in the future. Because, while it's important for us at TBC to look back at the past year and make our own assessments, we value your unique perspective as a beef producer. 
No matter who you are or what type of work you do, one thing is certain – to continue growing and moving forward, you must understand where you've been and where you want to go. Our Texas Long Range Plan provides strategic guidance on our path to growing beef demand. Our evaluation process, compiled in each annual report, ensures our staff and our Board that the programs we implement are achieving that goal. You can request a copy of the TBC annual report or a more detailed audited financial report by dropping us an email at info@txbeef.org or calling 512-335-2333. You can also read the annual report online.