Consumer Marketing
October 20, 2021
Beef Loving Texans Booth A Must-See At State Fair of Texas
Every fall, Texans from across the state travel to Dallas to attend the famous State Fair of Texas. From September 24 to October 17, approximately 2.5 million people entered its gates and participated in countless activities. Between the food, rides, shopping and livestock experiences, everyone has at least one stop they can't miss, and TBC makes the Beef Loving Texans' booth a must-see for everyone.
Located in the Go Texan Pavilion, the Beef Loving Texans booth is an immersive experience for participants. The booth is designed to look like a backyard grilling scene with the BBQuest series running on multiple televisions. Once an attendee enters, they're given recipes, grilling and smoking brochures, and nutritional information about beef. Attendees can also play Plinko – a game made famous on The Price Is Right – for the chance to win an adjustable measuring spoon with a spice rub recipe on it, koozies, pencils, spice packets or a cowbell.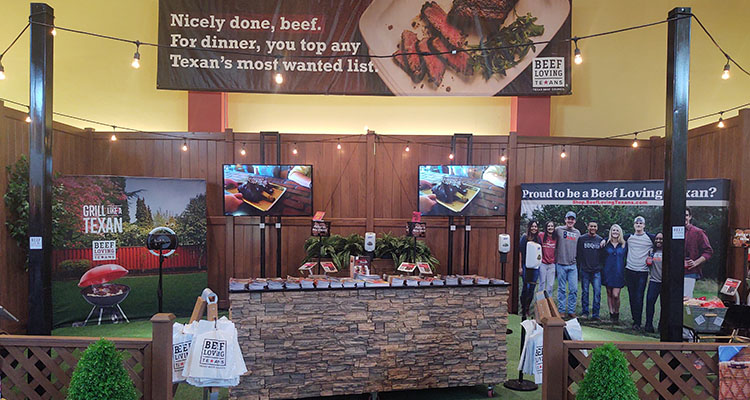 "Our booth is one of the most popular in the Go Texan Pavilion," said Jerry McPherson, event and logistics manager for TBC. "We always have a line, and people come back year after year to get our recipes and nutritional information, as well as our grilling and smoking tips."
McPherson isn't alone at the booth; with so many people eager to get the Beef Loving Texans experience, there are five interns and additional staff who help engage with all the visitors. Working the booth allows the interns to advocate for the beef industry and chat with consumers about beef preparation and popular recipes they should try.
"Interning for TBC at the State Fair of Texas was a great opportunity that allowed me to develop communication and advocacy skills while making connections with industry members and consumers from across the state," said Anna Wyle, a freshman meat science major at Texas Tech University. "I think that TBC's role at the State Fair is very impactful because it gives consumers a unique opportunity to learn about the benefits of beef and the importance of the industry as a whole."
In addition to having an impressive booth, TBC implemented beef messaging and materials throughout the Go Texan Pavilion. Promotional banners spanning the building's 14 columns highlighted the Checkoff-funded Beef. It's What's For Dinner. "Nicely done, beef." campaign. Beef fans could also purchase Beef Loving Texans merchandise from the general store.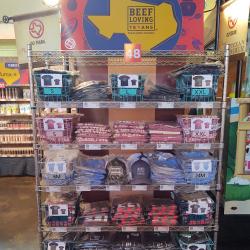 Not only is the State Fair of Texas TBC's largest consumer event, but it's also an opportunity to connect with producers. Many producers attend the fair to exhibit their cattle, and when exploring the fair in their free time, they see first-hand what their Beef Checkoff dollars are doing to reach consumers and get beef on their plates.
"Over the years, the State Fair has always been an important venue for TBC's work on behalf of our Texas producers," said Richard Aven, long-time Beef Loving Texans booth worker. "Beef's popularity is as strong as ever with attendees seeking us out year after year for information, recipes and fun!"