TBC News
February 15, 2022
Board Member Spotlight: Leslie Kinsel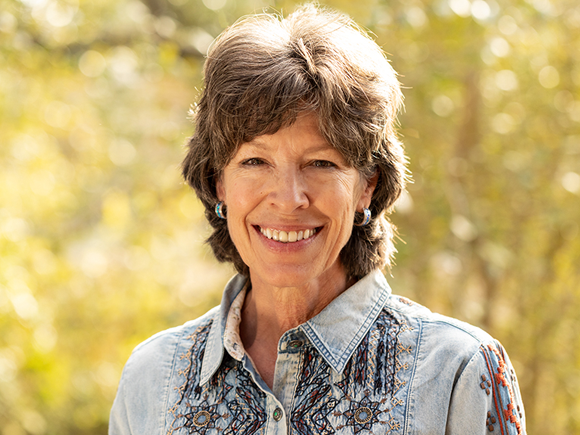 leslie kinsel
Represents: Texas & Southwestern Cattle Raisers Association
Hometown: Cotulla
Can you tell me about your operation?
My husband Dan and I live on the Cotulla ranch headquarters of his parents' Kinsel Cattle Company operation. Dan is the manager, along with overseeing our own cattle on surrounding ranches. Kinsel Cattle Co. started on Dan's mother's land; she is 92 years old and still an active member of South Texas CattleWomen. She introduced me to beef promotion through CattleWomen grocery store displays, and to education through school presentations. Dan is a lifelong member and now honorary director of Texas & Southwestern Cattle Raisers Association (TSCRA), having served in many leadership roles, particularly wildlife and marketing issues. As a real estate broker of Texas ranches, marketing is a top topic in our office. As well as raising cattle in south and central Texas, we feed cattle in the Panhandle and also in an Eagle Pass feedyard we are partners in.
What has been your involvement with Texas Beef Council (TBC)?
I represent TSCRA on the Texas Beef Council (TBC) Board of Directors. Representing cattle producers to oversee our Beef Checkoff dollars at work is an honor and responsibility. It is exciting to observe skilled marketing professionals create and implement programs that promote our beef product. Having the talented TBC staff working for cattle producers is like having advertising, marketing, public relations, research and development divisions that complement our field work—making it more profitable while also enhancing the quality and safety of beef for our consumers. The skill and dedication of TBC staff inspires me to do my job better.
What other organizations have you been involved with, both now and in the past?
I serve on the Texas Farm & Ranch Lands Conservation Council; TSCRA board, executive committee, and policy committee; Texas Cattle Feeders Association; National Cattlemen's Beef Association; Texas Farm Bureau; American Quarter Horse Association; and have been a volunteer leader of 4-H and many other youth organizations.
What would you say to someone looking for a way to get involved in advocating for beef?
Research! Educate yourself so you can share facts (not opinions) about the nutritional benefits of beef, as well as the environmental benefits of cattle.
How would you describe the Beef Checkoff program to someone not in the beef industry?
Producer dollars working for the producer.
How do you personally share the work the Checkoff is doing with other producers?
I like to share the return on investment analysis that illustrates how the Beef Checkoff increases the value of beef.