Consumer Marketing
May 02, 2023
Kick Off Beef Month & Enjoy Texas BBQ with New BBQuest Pass
AUSTIN, Texas (May 2, 2023) – Just in time for Beef Month, Texas Beef Council (TBC) and Beef Loving Texans have launched the new "BBQuest – Take on Texas BBQ" free mobile pass program. The pass is designed to encourage people to experience delicious barbecue from the restaurants featured throughout all three seasons of TBC's popular BBQuest streaming series. 
"BBQuest has been a great way for us to both educate and entertain viewers while spotlighting the Texas beef industry," said Rachel Chou, TBC's director of consumer marketing. "By introducing this new digital pass, we're encouraging both consumers and beef producers to visit BBQuest restaurants and take their own personal BBQuest-inspired journeys." 
To sign up for the BBQuest pass, visit BeefLovingTexans.com/Explore-BBQuest and complete an online form. From there, the free passport will be delivered to their mobile phones via text or email.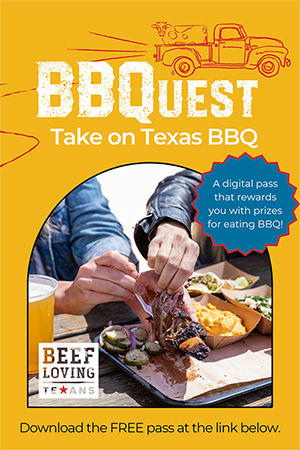 As participants check in at the BBQuest restaurants they can earn points to unlock various prizes and discounts. Individuals who check in at all 11 restaurant locations will be eligible to win a Texas Hill Country getaway for two.  
"We'll be promoting the pass on social media, at events and through some of our biggest advocates like the Texas Beef Team, a crew of beef-loving fitness enthusiasts," said Adriana Mora, TBC's consumer marketing manager. "We'll also be working with food and travel influencers to help spread the word about the program. Texas barbecue is not just food – it's a way of life. We're looking forward to helping more people discover the BBQuest series and sample delicious Texas beef throughout the state."
BBQuest: "Beyond the Pit", season 3 of the series, is now streaming on Hulu. All three BBQuest seasons are also available for viewing at BeefLovingTexans.com. For more information about Texas Beef Council and Beef Checkoff programs, visit TexasBeefCheckoff.com.