TBC News
July 05, 2023
Meet TBC's New Senior Manager of Industry Relations
Growing up raising beef cattle and hay with his family in the Piney Woods of East Texas, Kaleb McLaurin always imagined a life in agriculture. What he didn't realize was a passion for people would lead him to a career advocating for the cattle industry—first at the state capitol and now with Texas Beef Council (TBC) serving as Senior Manager of Industry Relations.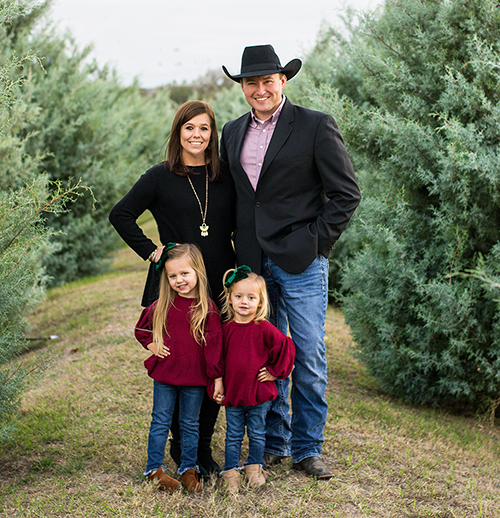 In his new role, Kaleb will lead industry relations and collections/compliance efforts. Producers can count on seeing Kaleb down the road at local meetings and events. In his spare time, Kaleb can be found throwing some Ribeyes on the grill and spending time with his wife and two daughters.
Tell us about your background.
I grew up in rural East Texas and was able to take off my first year of college to serve on the Texas FFA officer team. I spent that year traveling across the state speaking with high school students about agriculture. That year of service helped me realize that I could bridge my agricultural background with my passion for people and the eternal impact relationships can have. 
Once at Texas A&M, I found another opportunity to work with people in the context of agriculture through a policy internship at the State Capitol working for Texas A&M AgriLife. While I never thought I would pursue a career in policy making, I realized that working in government relations was an opportunity to advocate for people like my parents and grandparents, and help fix issues on their behalf. After graduating I accepted a position as director of government affairs for Texas & Southwestern Cattle Raisers Association that allowed me to start a career managing a diverse portfolio of policy issues affecting cattle producers. My role later evolved to executive director of government relations, and I served a combined eight-plus years in those roles.  
What led you to TBC?
I'm a fixer by nature, and enjoy listening to concerns of producers and doing what I can to address them. In this role I get to continue working closely with cattle producers to ensure the Beef Checkoff works at its highest and best use for those who pay in to the program. 
TBC is also just a great work environment filled with staff who are passionate about beef the industry and the producers we work on behalf of.
What has been your favorite experience so far?
Every day looks a bit different. Most of my time is spent on the road visiting auction markets, processing facilities, and feedyards, or attending industry meetings. These are my favorite days because I get to visit with producers in their backyards and experience their operations, but also answer questions about how the Beef Checkoff works on their behalf. 
What makes you excited for the future of the beef industry?
It all goes back to the people. The people raising livestock the best they can with what they have. Regardless of size, sector, type of cattle - people pour their heart and souls into their operations. And that's what sustains our industry through thick and thin.
Connect with Kaleb at kaleb@txbeef.org.