Nutrition
January 02, 2023
Nutrition & Health Professionals Experience The Ranch
Now more than ever, consumers rely on the advice and recommendations of nutrition and health professionals. Registered dietitians and healthcare professionals are the most trusted sources for nutrition and healthy eating information1, and 77% of global consumers say that the advice of dietitians and nutritionists impacts which foods they buy. 
This core audience has the power to significantly advocate for beef and increase consumers' confidence in its role in a healthy lifestyle. To connect and engage with this audience, Texas Beef Council (TBC) is investing in experiences that leave an impact on their thoughts and perceptions about beef. In November, one such event welcomed 15 credentialed nutrition and health professionals to the ranch and the TBC office for a pasture to plate immersion experience.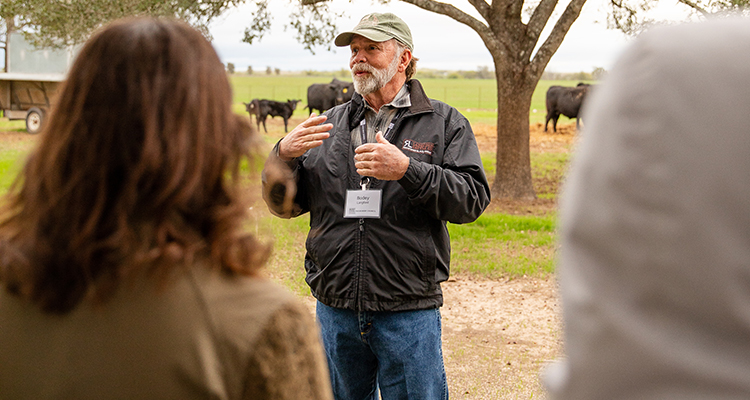 Hosted at Langford Cattle Co. in Lockhart, Texas, this on-the-ranch experience was designed to be exclusive in nature so attendees could get more hands-on and conversational with presenters. During the event, attendees learned from Bodey Langford, a fourth-generation cattle rancher, about the day-to-day happenings at his family's registered Angus seedstock operation and how he raises his cattle with sustainability, stewardship for the land and animal welfare at the forefront of operations.
Attendees also mastered all of the different beef cuts, cooked various beef recipes and heard from other nutrition professionals and sustainability researchers. 
This program took a group of dietitians from the ranch to the plate and beyond. What was most exciting was seeing their desire to jump in and learn at each stage, from curiosity about beef production methods to putting new culinary skills and recipes to use.

Hannah Fuerniss, TBC's Nutrition and Health Manager
This interactive on-the-ranch experience was the first immersion event TBC hosted for this audience since the pandemic. These efforts are a top priority for TBC, since ensuring beef is included in dietary recommendations for a healthy lifestyle is a cornerstone of TBC's Long Range Plan. 
"Outreach to health and nutrition professionals is critical for TBC because we know that these experts are providing dietary recommendations to consumers on a daily basis," Fuerniss said. "We aim to serve as a credible and reliable source of beef information in a world where misinformation is unfortunately widespread. We believe in-person engagements like on-the-ranch experiences allow for a unique combination of trust-building, traditional education and experiential learning, not to mention memorable meals." 
Following the event, attendees participated in a survey to share honest feedback on their perception of beef, how cattle are raised and how confident they are discussing beef with their patients. The majority of responses showed that the attendees have high regard for how cattle are raised, and more than 92%  shared they are self-assured in their abilities to discuss beef with their patients and clients.  
"We were pleased to see positive feedback about every activity and presentation as part of the post-event feedback, which indicated to us that the time these dietitians spent with us was a valuable investment from their perspective and ours," Fuerniss said. 
Looking to the future for the rest of 2023, TBC will be executing multiple efforts with themes that are a top priority for health professionals, like healthy, sustainable dietary patterns, as well as beef's role in meeting nutrient needs in the early years of life. TBC will also expand messaging to address other life stages where beef can help fill critical nutrient gaps as well as increasing strength. 
Whether connecting through authentic immersion experiences, in-person medical conferences or digital outreach, TBC will continue reaching nutrition and health professionals with beef messaging rooted in research-driven, sound science.  
Sources:  
1 International Food Information Council (IFIC) Foundation's 2022 Food and Health Survey 
2 Eat Well Global, The Consumer Voice Report: Global Insights on Food, Trust, Nutrition and Influencer, November 2020