Events
February 21, 2022
Producers Gather In Houston For Cattle Industry Convention
The Cattle Industry Convention and National Cattlemen's Beef Association (NCBA) Trade Show, otherwise known as "CattleCon", is the largest annual beef industry event where thousands of cattle producers, industry partners and stakeholders from across the country gather for education, networking and business. Texas cattle producers and Texas Beef Council (TBC) board of directors and staff were right in the mix, getting involved and representing the Texas beef industry during meetings and events. 
Beef Checkoff Committee Meetings
For the first time, the convention was held in Houston, Texas, February 1 - 3. 
"If you've never attended Cattle Industry Convention or participated in the business meetings, what's important to know is that producers come from all over the country to discuss how Beef Checkoff dollars are invested across promotion, research and education," said Molly McAdams, TBC executive vice president. "The priority is to look at ways we can reach consumers more effectively and efficiently about the nutritious and sustainable beef we produce."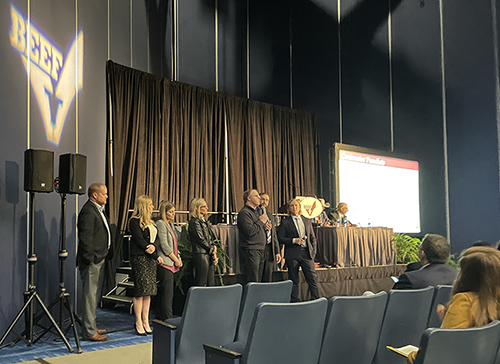 TBC board directors were heavily involved in the Cattlemen's Beef Board (CBB) Beef Checkoff committee meetings where they received updates on Beef Checkoff-funded efforts in growing consumer trust; nutrition and health research and promotional programs; food safety research and product innovation; international marketing of U.S. beef; domestic advertising and marketing initiatives; and how producers learn and stay engaged with their Beef Checkoff program. 
"With the convention taking place in Houston this year, the TBC board, staff and partners had great opportunities to take part in important discussions affecting our industry," said Dan Gattis, TBC board chairman. "I'm proud of the representation we had at the convention and the updates we were able to bring back to fellow cattle producers."
Texas Producers Provide National Leadership
More and more Texas producers are getting involved on the national level with the Beef Checkoff program. Representing Texas with national appointments: 
Brad Hastings, selected as Chair of the Federation of State Beef Councils. 
Dan Gattis, Ryan Moorhouse, Brad Hastings and Michael White were selected to serve on the Beef Promotion Operating Committee. 
Debbie Gill and Austin Brown III were selected to serve on the Nominating Committee.
Seth Denbow and Dan Gattis were selected to serve on the Executive Committee.
The U.S. Department of Agriculture appointed 35 new members to serve on the CBB, including David Henderson from Texas. 
Celebrating Dry Creek Ranch
CattleCon is also the event where producers from across the U.S. are recognized for their outstanding work and commitment to excellence in environmental stewardship. Dry Creek Ranch in San Angelo, Texas, was recognized as one of seven regional winners in the 2021 Environmental Stewardship Award Program.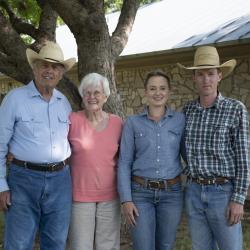 The Environmental Stewardship Award Program (ESAP) annually recognizes cattle producers' exceptional stewardship practices and conservation achievements. Carl Schlinkes and his wife, Pat, run a registered Hereford operation at Dry Creek Ranch, where sustainability is at the forefront of their ranch priorities. For example, to protect creek banks from severe erosion and to help reduce watershed contamination, they built more than six miles of fencing to establish a riparian area and keep livestock from grazing the area. The Schlinkes also worked with local conservationists to control the water-absorbing mesquite and cedar trees on the property and establish a strong forage program through seeding and aeration.
Convention Happenings
So much goes on during convention, from top speakers and leaders sharing knowledge during general sessions to exciting announcements for what's to come this year. Here are a handful of highlights from this year's CattleCon:
Tony Romo announced as the new spokesperson for Beef. It's What's For Dinner.: Beef Checkoff-funded Beef. It's What's For Dinner. will partner with celebrity athlete and former football star Tony Romo. The partnership will tap into Romo's vast fanbase to promote all things beef. Get more partnership details. 
CattleFax 2022 U.S. & Global Protein & Grain Outlook Seminar: The popular CattleFax Outlook Seminar forecasted positive profitability trends in 2022. Cattle price and profitability trends for producers are pointed in the right direction, even as challenges and uncertainty persist with continued disruptions from the pandemic. While issues around labor and packing capacity have lingered, both are expected to improve in the year ahead.
Secretary of Agriculture Tom Vilsack Addresses Supply Chain Issues: Secretary Vilsack committed to addressing challenges that producers are facing regarding the supply chain, processing capacity and drought. He recognized the need for increased processing capacity and announced continued assistance for producers who suffered from catastrophic disasters. Also, Under Secretary Robert Bonnie noted the industry's role in conservation efforts and that cattle producers play a critical role in environmental stewardship goals. 
To get more CattleCon highlights, visit: www.convention.ncba.org.