Nutrition
November 20, 2023
Strengthening Beef's Role In Healthy Diets
I'm proud to be a football mom. My son has played on the defensive side of the ball, both in high school and now in college. Having been around football for years, I feel like I understand the game very well. And while it's exciting when your team is on offense, defense is what gets you the ball back. It's necessary to play both sides of the ball well if you're going to win the game. That's also true in the beef industry. We must defend beef's position AND proactively support and promote it.   
I recently moderated a panel at the Texas Cattle Feeders Association Annual Convention about how the beef industry continues improving beef's reputation as part of a nutritious and sustainable diet. Our panel included Charlie Risinger, MD, Baylor Scott & White (a doctor and a cattle feeder); Keli Hawthorne, MS, RD, LD, Department of Pediatrics, Dell Medical School at the University of Texas; John Sauter, H-E-B; and Staci Musgrove, manager of the Texas Beef Council's (TBC) Medical Office Outreach program.
During the hour-long panel, we discussed the importance of gathering science-based evidence to defend beef's role in a healthy diet. But that's just the first step. The beef industry also needs to share that evidence with the growing number of physicians who are often called upon to answer their patients' nutrition questions. That's where our Medical Office Outreach program comes in.
This program – the first of its kind in the nation – is hammering away at the misconceptions physicians have about beef. Staci and her team of representatives are meeting with family practice physicians and internal medicine specialists across Texas. They're sharing clinical data and patient education resources demonstrating how beef can be an integral part of a healthy diet.  The information this team shares is peer-reviewed from renowned researchers at prestigious universities.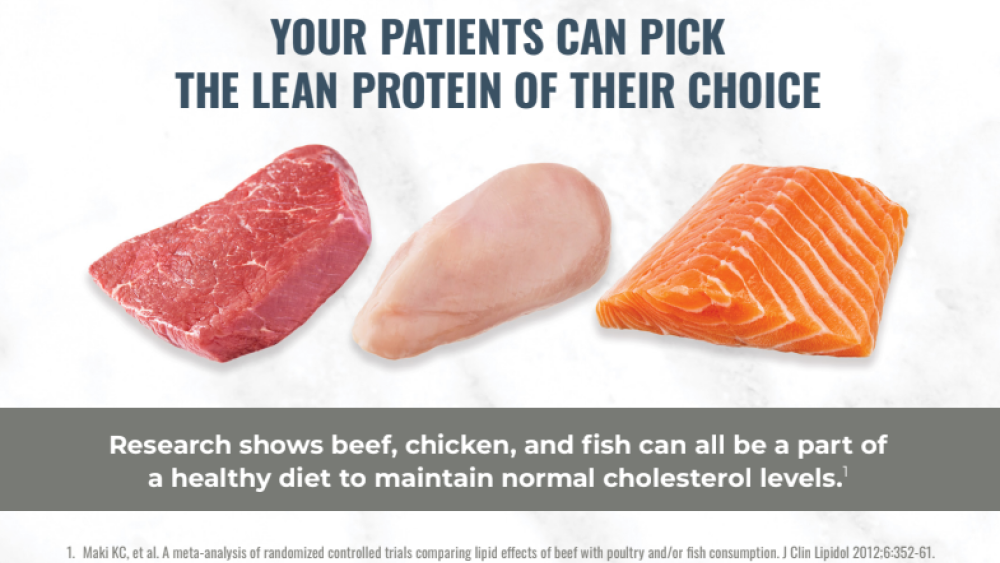 In fact, data from the Beef in an Optimal Lean Diet (BOLD) study has been a pivotal element of the Medical Office Outreach program. This study shows that a healthy diet containing lean beef, even daily, can help people improve their cholesterol levels. Another impactful study showed that changes in blood lipid profile were not significantly different when people consumed beef compared with consuming poultry and/or fish. So, our team can come right out and ask physicians, "If you're not telling your patients to limit chicken or fish, why would you tell them to limit beef?". 
We welcome the dialogue because it gets us in their offices to present the research that will ultimately change their minds and recommendations.
According to Dr. Risinger, most family physicians don't learn about nutrition and dietetics in medical school. It's simply not a part of their education. A series of surveys between 2015 and 2018 found that 75% of doctors say they lack knowledge and 62% lack confidence to offer nutritional advice. But 94% agree it's something they must do – and for good reason.
Rising obesity rates and diet-related illnesses continue to spawn more questions about healthy diets. Since protein rose to the nutritional forefront 20 years ago, millions of individuals have also asked their doctors how to incorporate more of the vital nutrient into their diets. They want to know which proteins – animal, plant-based and even protein bars – will best help them achieve their health goals. That's why the Beef Checkoff is now funding more research to determine why iron, protein, selenium, and B vitamins are more bioavailable when you consume them in a steak.
Football games eventually come to an end. The clock ticks off the game's final seconds, and one team comes out on top. For the beef industry, there's no end in sight. Our efforts to both defend and promote beef must continue indefinitely. We've gotten the ball back. Now, through TBC's Medical Office Outreach program, we're going on offense. By helping doctors think about beef and cardiovascular health in a completely different way, we're making it far more likely they'll recommend beef for patients seeking healthier, higher-protein diets.