July 20, 2021
Texas Beef Council Showcases Beef's Benefits to Babies
Beef as a First Food
To get beef on the plates of Texas consumers, the Texas Beef Council (TBC) implements nutrition and health campaigns to advocate for beef's role in a healthy lifestyle. These efforts not only demonstrate the benefits of beef for adults – but also babies. 
For the first time ever, the 2020-2025 Dietary Guidelines for Americans committee addressed the need to provide authoritative guidance regarding nutrition recommendations for children from birth to 24 months of age. Specifically, the committee recommended animal-sourced foods, like beef, as a foundational food to support healthy growth for infants and toddlers.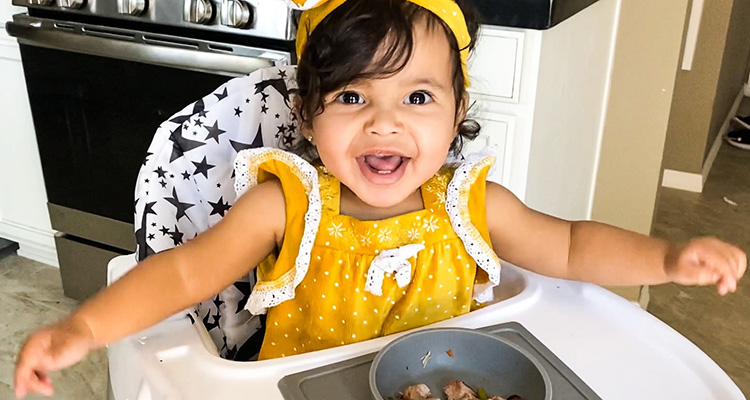 Research shows that only a small percentage of infants eat meat within the first nine months of life, with even fewer consuming beef. Several factors may play into this, including uncertainty about how to include beef as a first food, concern about the risk of choking and a knowledge gap about the nutrients that beef contains. 
"Beef In The Early Years" Campaign
To debunk those misconceptions and increase awareness of the scientific evidence supporting beef as a first food for infants amongst health professionals, researchers and Texas families, TBC extends the national Beef. It's What's For Dinner. "Beef In The Early Years" campaign. The national campaign is executed by the National Cattlemen's Beef Association, a contractor to the Beef Checkoff. 
One key initiative of this campaign is working directly with Registered Dietitians (RDs) who are also health and wellness influencers to educate parents and caregivers on how to introduce beef effectively and safely as a complementary first food. These influencers share messages about the benefits of incorporating beef into a child's diet while also creating nourishing baby and toddler-friendly beef recipes for their audiences. 
TBC is currently working with the following RDs and health influencers: 
Combined, these credentialed health and wellness influencers reach 334.8K followers on Facebook and Instagram. They are each an essential partner for this campaign because they are all moms themselves, and they truly believe in the value of beef's nutrients. This enables them to package the information in a practical way for other parents to understand how to integrate it into their daily lives.
Influencer Partnerships
TBC is also working with health and wellness influencers to execute a television campaign in Dallas, Houston and San Antonio. These television segments will promote "Beef In The Early Years" messaging and reach up to 106,000 Texans. 
Parents of young children often seek guidance on how to best nourish their children, and they look to their healthcare providers to provide that information. To further engage health professionals, TBC is planning a "Beef In The Early Years" webinar event in September to educate Texas' pediatric healthcare providers on the benefits of introducing complementary foods like beef in the diets of babies and young children. 
During this webinar, a Texas-based RD and nutrition researcher will share the science behind why beef's nutrients are critical for babies and toddlers. Also, they will share advice for providing education to parents and caregivers related to the appropriate introduction and progression of solid foods like beef. 
Childhood nutrition continues to be a popular topic amongst parents and health experts, and TBC is excited to raise awareness about the benefits of eating beef in the early years.
To learn more about the National Beef In The Early Years campaign, visit: https://www.beefitswhatsfordinner.com/nutrition/beef-in-the-early-years