Consumer Marketing
April 20, 2022
Building Beef's Brand - With Molly
By: Molly McAdams, TBC Executive Vice President
As cattle producers in Texas, we're all familiar with branding. For generations we've been branding cattle to provide identification and proof of ownership. However, it's just as important to understand a completely different definition of branding — the one that helps us market our products and services. 
Well-executed brands have some of the most powerful real estate in the world because they occupy a place in the human brain. Think about a brand that's meaningful to you. Maybe it's Carhartt or John Deere or Coca-Cola. You may not be able to explain exactly why it resonated with you, probably because it's an emotional connection and not something you can necessarily put your finger on. That connection isn't just about what a brand is selling, but what it does, what it stands for and how it makes you feel.
This is the direction we're headed with Beef Loving Texans, the brand we have established at Texas Beef Council (TBC) to bring more people to the table over a shared love for beef. When people experience our uniquely-Texan recipes, nutrition information and stories, we want them to feel the same positive emotional connection. But getting there is only part of the journey, and brands must continually evolve to stay relevant.
May is Beef Month, a great opportunity for consumer outreach, which is really what Beef Loving Texans is all about. I took a few minutes to chat recently with Jennifer Matison, vice president of marketing for TBC, and asked her to share about the brand, where it's been, where it's headed and why it should matter to Texas beef producers. 
beef Loving Texans: Then, Now And Where We're Headed
Jennifer Matison - Vice President of Marketing for TBC
When we first started posting on social media back in 2008, we used the term "Beef Loving Texans" to describe the social community we wanted to nurture and grow. Texans feel great pride in their state's heritage, with beef playing a huge role. This connection gave us a strong platform for continuing education and meal inspiration. After the state Beef Checkoff passed in 2014, our staff and board saw it as an ideal opportunity to strengthen all our marketing efforts under the Beef Loving Texans brand which has been bringing people together ever since.
One great example is our "For All Plates of Life" campaign which reflects the diverse people and food that make Texas unique. In 2021 this campaign was viewed 74 million times and garnered 1.6 million clicks to BeefLovingTexans.com.  Some of our most popular content has been about family traditions like barbacoa Sundays, breakfast tacos and Texas-style chili.  
So, what's next for Beef Loving Texans? It's no secret we're all spending more time on social, digital and virtual platforms than ever before, and we're using that fact to gain access to consumer conversations and engage with more people.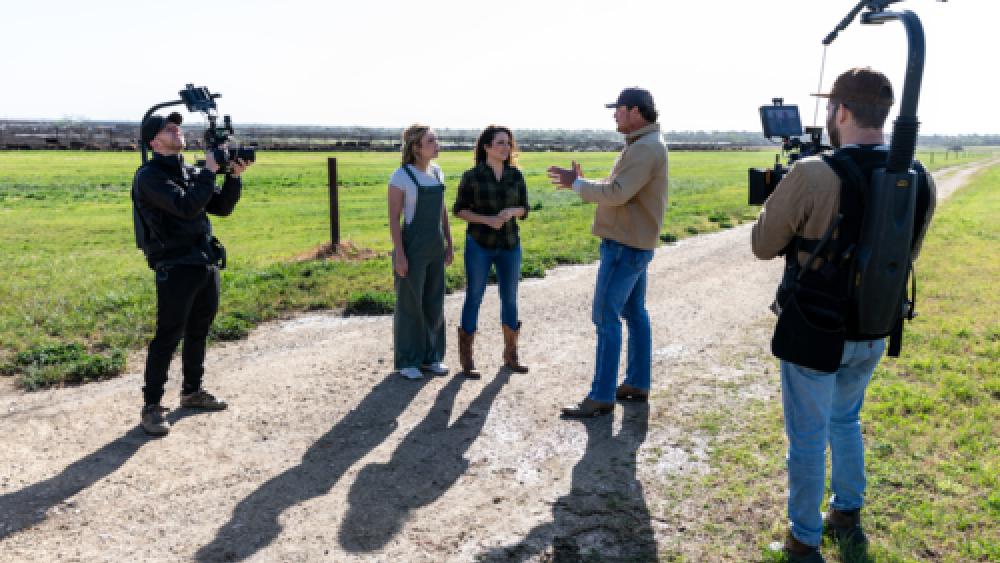 Right now, we're filming Season 3 of our "BBQuest" TV series that will premiere this summer. This marks the first season we're taking our viewers to Texas ranches so they can see more of the story behind the barbecue they enjoy so much. We're spotlighting the unique individuals and families who take extreme care to produce delicious, high-quality beef consumers can feel good about purchasing. 
Beef Loving Texans is also now on TikTok, the short-form video app which isn't just for kids anymore. We're working with influencers to create videos about their favorite beef recipes. So far, these influencers have reached 1.37 million people across Tik Tok, Instagram and Facebook and we continue driving people to BeefLovingTexans.com for even more inspiration. You'll be hearing more from us in the coming months about a refresh of the website to provide visitors with a personalized experience with more access to the beef recipes and cooking information they are looking for.
As a beef producer, when you see Beef Loving Texans ads, merchandise, social media posts or promotions, those are YOUR Texas Beef Checkoff dollars at work. You are the original beef-loving Texans, and like our target consumers, you like to eat well, work hard and help others. Through Beef Loving Texans we're supporting, educating and inspiring Texans everywhere to unite around their shared love of beef.